At Yellow Tail Tech, we make sure to build a community that welcomes everyone who wants to take up a job in the IT industry or anyone who wants to earn big money in the industry. To ensure that this happens, we build our team with the most experienced and skilled professionals, to guarantee your success with us.
An interview with our lead instructor, David Baker, represents his experience in the industry and what he contributes as a valuable part of the Yellow Tail Tech team.
David's Journey in Linux
David's journey in Linux began four years ago when he thought that he wanted to get into web development. His primary plan was to get into designing and developing websites, even with the idea that he would start a freelancing business of his own – before he realized that this aspect of the industry wasn't really where he wanted to be.
On the flip side, he came to another realization. Way past the development and design, there was one thing standing behind it, which was Linux. This is where David started learning more about backing development, leading him to the path toward Linux. This is where things began for him.
Before getting in the habit of teaching Linux, David learned and researched a lot about the way that Linux functioned. There was a large value in doing this, especially as teaching and coaching were one thing David had prior experience with within other industries. With this in hand, he put things together – his interest in Linux and his teaching experience.
David and Yellow Tail Tech
Aside from Yellow Tail Tech, there are plenty of other boot camps and organizations that offer almost the same things that we can. The IT industry has grown and expanded so far that David could have been a part of other successful organizations like us. However, David chose to teach at Yellow Tail Tech for a reason.
That one reason is: that David had his own experience at Yellow Tail Tech. As he himself says, he was a product of Yellow Tail Tech and he has his own firsthand experiences with the way that things proceed and happen. He received the value of learning about Linux and was offered an opportunity to extend that helping hand to the next generation.
One of the things that Yellow Tail Tech is proud about is the way we ensure to provide a community that enriches you, never holding you back. Aside from focusing on how to get you to a place in life where you're sure to land a high-paying job, we also wish to hand you opportunities and chances to be better. David is one of the best examples of this.
Before he was a lead instructor, David was once like everyone else – someone who wanted to find a job, stability, doing something that he loved and was passionate about. Once finding out about Linux and learning about it through Yellow Tail Tech, he was given the opportunity to become a bridge-builder. He wanted to help the next people because Yellow Tail Tech helped him and now, he wants to help others as well.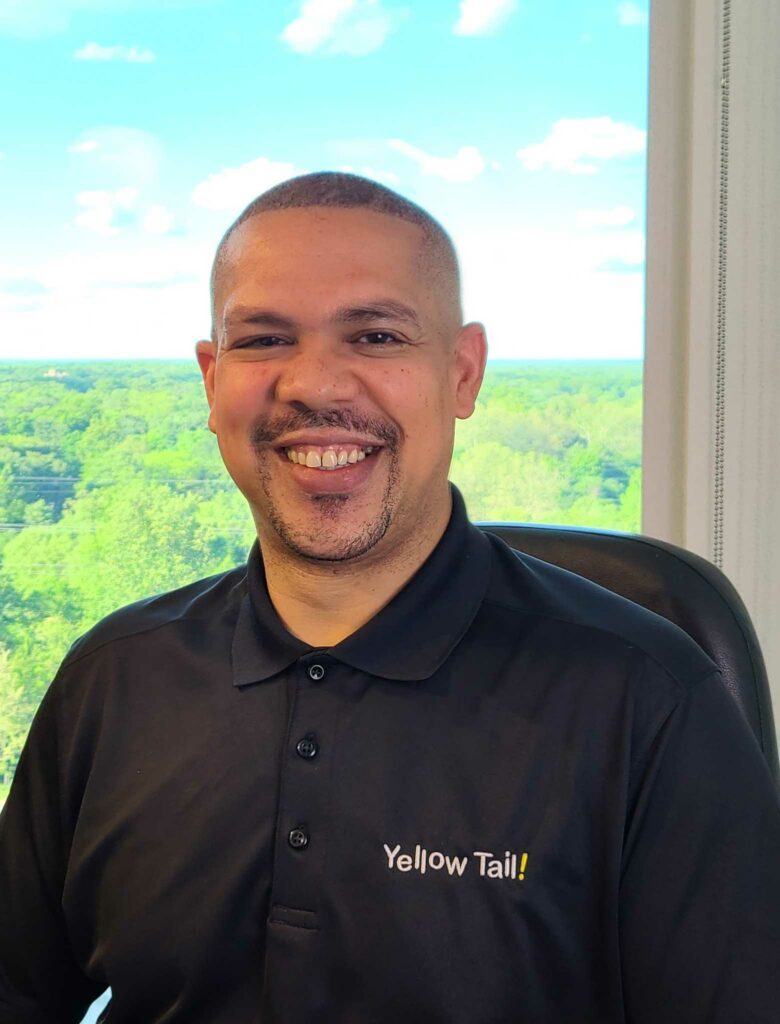 David as a Lead Instructor
As David talks about his experience as a lead instructor, describes it as exciting and there never being a dull moment in the job. As a lead instructor, David actually handles more than one person – he helps over 30 to 50 at a time. All these students are learning something new, curious, and seeking out help in the areas they want to become good at.
David mentions that what he likes most about the job is that it keeps him on his toes. Every time a person asks him a question, someone who doesn't know as much about Linux, he is always prompted to think deeper about the things he knows. It helps him reflect on how much he exactly knows, thus enriching his knowledge while he helps others learn.
Like he said in the interview, every week, every class – he learns something new and something deeper about things he thought he knew.
As an instructor, David believes his biggest contribution is that he helps in making the learning experience enjoyable and something to look forward to. When learning something new and hard, it can be tiring to power through it. Through this, David tries his best to make things fun.
David has learned a lot of values throughout his time as an instructor, but he treats patience as one of the most valuable. Especially in an environment where one teaches Linux, it can be hard to keep up, especially if people keep asking questions, but with patience, knowledge can be shared effectively, especially when you try to understand where a student comes from.
Although David hasn't tried other boot camps in-depth, he believes that Yellow Tail Tech's strength lies in the involvement that the team has with the students. The acceptance of questions, the one-on-one sessions to help understand and teach better, and it's more about how hands-on Yellow Tail Tech is than other programs.
As David says, "Yellow Tail Tech, we take you all the way through the finish line and to the next race."
At Yellow Tail Tech, we aim to help you through the process of landing your first high-paying job in the IT industry. Whether you've had prior experience or are completely new to the industry, we're here to help you throughout the journey.
We have the most dedicated and skilled instructors like David, well-equipped to help you get started. Book a 10 minute intro call with our Enrollment Advisors to start your journey.